Funeral Home in Masontown, PA
Maykuth John S. Jr. Funeral Home provides funeral and memorial services for individuals of all faiths. We're here for you in your time of need, assisting with funeral pre-planning, cremation services and burial, urns and monuments, grief counseling and more. Saying goodbye is never easy; we make it less stressful, giving you the opportunity to grieve and the closure you need. Contact us today to inquire about our services, which also include obituaries.
Funeral and Memorial Services for all Faiths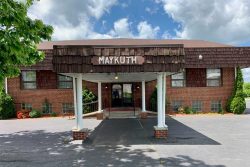 Whether expected or not, the loss of an important person in your life hits deep. Your heart needs time to grieve and process the flood of emotion. But unfortunately, there are decisions to be made as soon as your loved one passes. It's overwhelming and can add even more weight to your already-heavy heart.
When the time comes to plan funeral services in Masontown, PA, let Maykuth John S. Jr. Funeral Home help lift the burden from your shoulders. Not only do we make the entire process simple, we act with compassion and empathy. We know what you're going through and will do everything in our power to help you get through it. Count on our funeral home to simplify the decisions you're faced with and provide all the information you need to do right by your loved one. And, where you're uncertain or unsure, look to us for guidance. For everything that doesn't require a decision, count on us to handle it. We give you the space and opportunity you need to grieve properly.
Our memorial services in Masontown, Leckrone, Ronco, Fayette County, and Martin, PA are available to individuals of every faith and always personalized for the person they honor. We know the importance of a final remembrance, and we make sure any services provided are a testament to the individual they're for.
Death may be an inevitable part of life, but that doesn't mean you have to face it alone. From funeral services to counseling and whatever other capacity you need us, Maykuth John S. Jr. Funeral Home is ready to help.
We're one of the few funeral directors in the area that will provide service at the National Cemetery of the Alleghenies and the West Virginia National Cemetery.
We welcome all faiths and treat every person with the respect and dignity they deserve. Trust us to put your emotional wellbeing first.
Our funeral chapel is accommodating to large gatherings. We'll make sure everyone is accommodated and comfortable.
We strive to personalize every detail of our services, to ensure your loved one's memory is appropriately honored.
We're a private, family-owned and -operated funeral home that has proudly served the greater Masontown, PA area since 1946.
Saying Goodbye, the Right Way
Your loved one deserves to be remembered in a special way. Let us take care of the arrangements, giving them a final honor and giving you closure. Contact us today.
Providing exceptional funeral home and memorial services in the following areas:
Masontown, PA
Nicholson, PA
Uniontown, PA
Waynesburg, PA
McClellandtown, PA
Edenborn, PA
Leckrone, PA
Ronco, PA
Smithfield, PA
Greensboro, PA
Martin, PAN
Mapletown, PA